Local Community Events
NOVEMBER 23RD - BURLEY SENIOR CENTER'S FREE ANNUAL THANKSGIVING DINNER
On Wednesday, November 23rd - the Burley Senior Center will host their Annual Free Thanksgiving Dinner from 4:30PM to 7:30PM. The meal is free, but they will gladly accept at will donations. They will also be giving away free children's coats, and children's undergarments on a first come, first serve basis and the child must be present. For more information, contact Jack Zarybnisky (Zar-ben-in-sky) at 208-678-2812
NOVEMBER 24TH - 17TH ANNUAL MINI-CASSIA TURKEY TROT
The 17th Annual Mini-Cassia Turkey Trot is a Thanksgiving morning 5K for all ages & activity levels. They are about strong bodies, strong families & a strong community, so gather your family, friends & neighbors and come walk, run, waddle or trot! Big thanks to this year's sponsor Agri Service! The trot begins at 9am at West Minico Middle School. For more information go online to www.minicassiaturkeytrot.com
NOVEMBER 24TH - RUPERT ELKS LODGE ANNUAL FREE THANKSGIVING DINNER
The Rupert Elks Lodge will be hosting their Annual Free Community Thanksgiving Dinner on Thursday, November 24th from 11am to 3pm at the lodge located at 85 South 200 West in Rupert. They will also be offering drive through and delivery options as well, if you'd like to sign up for delivery or drive through, you MUST have your order in to the lodge by Thursday, November 17th.  The dinner is free, but goodwill donations are gladly accepted.  For more information and to make your delivery requests, call the lodge at 208-436-6852 or Scott Torix at 208-431-0937
NOVEMBER 25TH - RUPERT CHRISTMAS LIGHTING FIREWORKS AND CHILI FEED
Friday, November 25th is the Annual Rupert Christmas Lighting Fireworks and Chili Feed presented by the Rupert 4th of July Committee. The festivities kick off at 5PM at the Rupert Square; the Rupert Fire Department will escort Santa to the event around 7pm, where kids and meet him, then the fireworks show will follow directly after. So make sure you dress warm and join in the festivities at the Rupert Square for the Christmas Lighting Fireworks and Chili Feed on Friday, November 25th from 5PM to 9PM
NOVEMBER 26TH - MINIDOKA HEALTH CARE FOUNDATION -  CARING AND SHARING CHRISTMAS TREE FESTIVAL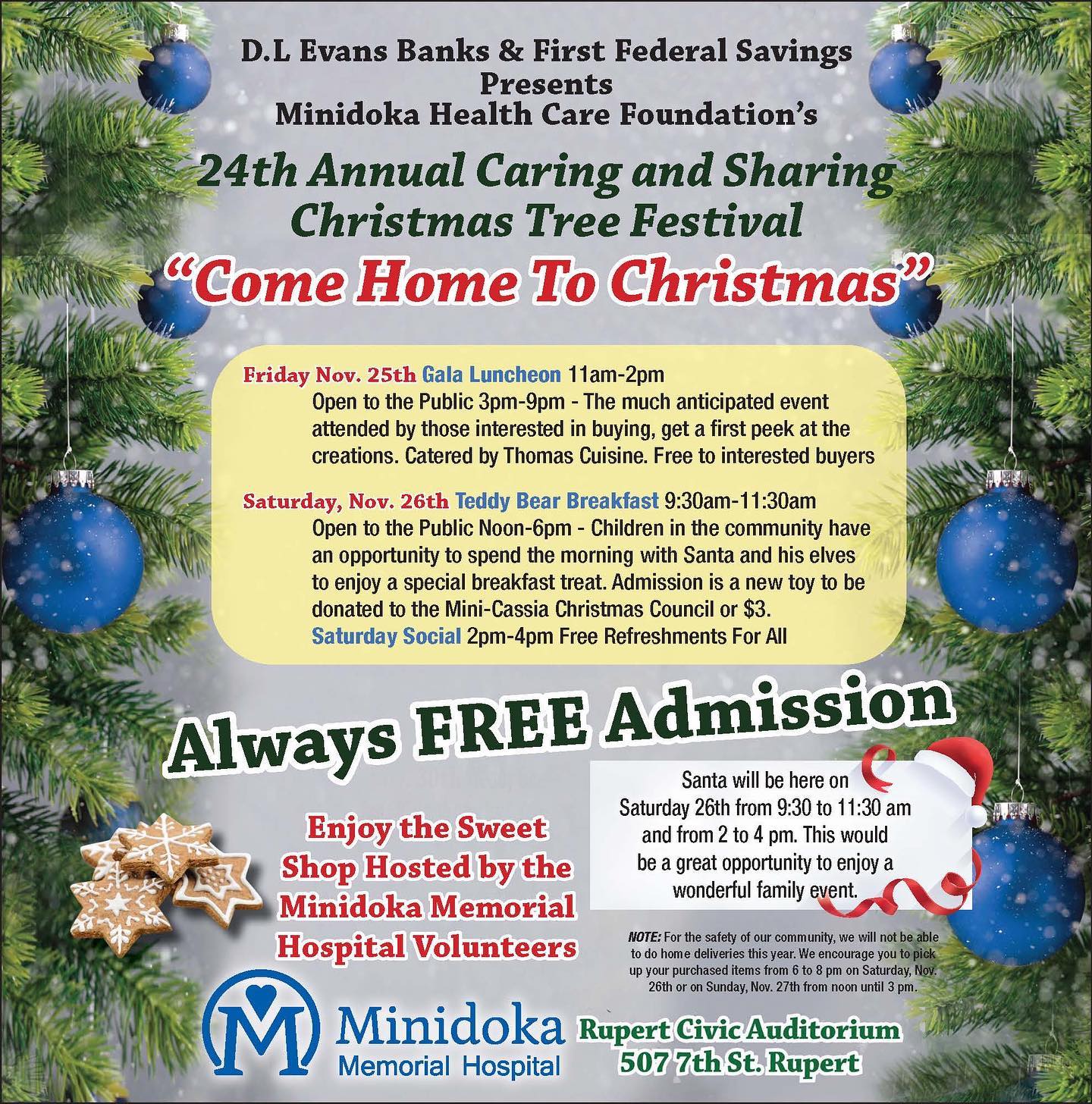 NOVEMBER 26TH - WILSON YOUTH SYMPHONY CHORUS CONCERT
The Historic Wilson Theater will be hosting their Wilson Youth Symphony Chorus Concert on Saturday, November 26th at the theater on the Square in Rupert. Donations will be taken at the door for admission.  For more details, call Kris Faux at the Historic Wilson Theather - 208-436-2787, or go online to www.historicwilsontheatre.com 
DECEMBER 1ST - FILER CHRISTMAS TREE LIGHTING AND PARADE
Get ready Filer! Santa is coming to town on Thursday, Dec. 1st. The event will start at 6 p.m. with a lights parade that will end at Filer City Square where the Christmas Tree will be lit and Santa will be there to visit with the children! Kids can bring their letters to Santa and put them in his mailbox. They'lll also have plenty of food trucks, mingling, and fun! If you'd like to be in the parade, please sign up on their website at www.filereventscommittee.com
DECEMBER 1ST & 2ND - LIVE NATIVITY AT GRACE COMMUNITY CHURCH IN RUPERT
Watch the story of Christmas come to life with Grace Community Church in Rupert and their annual Live Nativity performances on Thursday, December 1st and Friday, December 2nd from 6pm to 8pm both nights.  Stay warm in your vehicle as you watch the reason for the season unfold before your eyes! Grace Community Church is located at 100 North Meridian in Rupert
DECEMBER 3RD - SHOSHONE CHRISTMAS TREE LIGHTING & FESTIVAL OF LIGHTS PARADE
Shoshone will host their Festival of Light Parade and Christmas Tree Lighting on Saturday, Dec 3rd at the corner of South Rail Street East and South Apple Street near the Train Platform next to Shoshone City Hall. The parade starts at 6:00 pm and tree lighting follows the parade. Free Hot Dogs, Chili, Hot Cocoa and Cookies, Christmas Songs by the Shoshone Music Program and Santa will be making stop in Shoshone. If you would like to support this community event or would like to participate please contact the Shoshone Chamber of Commerce.  For More information: Shane Wallace, Parade: 208-358-6999 Shoshone Chamber, Tree Lighting: 208-886-9811
DECEMBER 3RD - GOODING COUNTY FIRST ANNUAL DUTCH OVEN COOKOFF
The first annual Gooding County Dutch Oven Cook off will be on Saturday, December 3rd. So get your Dutch Ovens out and dig out those family favorite recipes to help local families in need. The event will be held crossroads of Hwy 26 and Hwy 46. Everyone who wants to participate will make a main dish and side dish which can be breakfast, lunch or dinner. Also a dessert of some kind. Judging starts at 3 pm. The event is from 3 pm to 5 pm. Judges will decide the winner, they'll also have a raffle and silent auction. The event is free to attend, but if you'd like to eat some of the Dutch oven food, there is a suggested $5 donation.  
Also, Buzz Thru Daily in Gooding has set up a giving tree to help local families. You can sign up or register to take a tag a help someone between Thanksgiving and December 20th, they also have bins available for food drive donations. You can contact Buzz Thru Daily at 208 - 944- 9236 for more information

DECEMBER 9TH - FIRST FEDERAL FESTIVAL OF LIGHTS PARADE IN DOWNTOWN TWIN
Friday, December 9th - take in the holiday spirit with the Festival of Lights Parade in downtown Twin Falls beginning at 6pm!
DECEMBER 20TH - VALLEY HOUSE - ADOPT A FAMILY FOR CHIRSTMAS
The Valley House Shelter in Twin Falls is looking for supporters to adopt families or a single person at the shelter for Christmas. If you would like to adopt a family or learn more about the process email Kim at This email address is being protected from spambots. You need JavaScript enabled to view it. or call 208-734-7736.
JANUARY 12TH - MINIDOKA REPUBLICAN CENTRAL COMMITTEE MEETING
The Minidoka Republican Central Committee will have their monthly meeting on Thursday, January 12th from 7pm to 8:30pm at the Minidoka County Courthouse. The meeting is open to the public and everyone is invited to attend.
NOW THRU JAN 31ST - RUPERT ELKS LODGE - VETERANS LEATHER PROGRAM
It's hunting season here in Idaho, and you've tagged your big game and don't know what to do with your deer or elk hide?  You can drop your hides off at the Rupert Elks at 85 South 200 West in Rupert until January 31st, 2023. The hides are tanned and the leather is donated to the Benevolent and Protective Order of Elks - Veterans Leather Program. Before you drop off your hide, please make sure it's in a garbage bag and heavily salted to help preserve the hide before its sent off to the tanners.  For more information, contact Jerod Williams with the Rupert Elks Lodge at 208-695-8005.