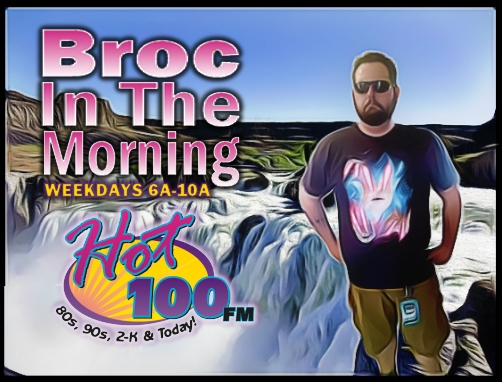 DAY PREP – 10/26/17 - Brought to you by D. L. Evans Bank, local Idaho-based community bank since 1904. Serving our communities  then, now and tomorrow.
The Friends Of Hailey Public Library's Used Book and Bake Sale is today, tomorrow and Saturday in the Queen of the Hills Room at the Hailey Community Campus.   All proceeds will fund enhancements to the collections and programs of the Hailey Public Library.   The sale is free to attend, and runs today 9a 'til 7p, tomorrow 9a 'til 6p and Saturday.
The Twin Falls Public Library will host their annual Teen Halloween Party this afternoon from 4:30 'til 5:30.  Join the library for a fun Halloween Party with treats, games and prizes.  You're encouraged to wear your costume, but certainly not required to do so.  The party is open to teens in grades 6 through 12, and is free and open to the public.
The Jerome Public Library's annual Open House Halloween Carnival is tomorrow afternoon from 1 'til 3.  The carnival features lots of games, lots of snacks, is free and is open to the public.  Then, later Friday afternoon the Jerome Public Library will host its annual teen Halloween scavenger hunt from 5-6 PM. The hunt features a costume contest, snacks, mummy wrap, and an eyeball relay race.
Downtown Twin Falls trick or treating is this Saturday on the newly renovated area of Downtown Twin.  It's a family-friendly event for all ages.  Dress the kids up and walk with them from storefront to storefront collecting candy and goodies at every stop along the way.  Trick Or Treating downtown gets underway at 2, and will wrap up around 4.
VFW Post 3001 and its Auxiliary present the annual Fall Fling German Dinner this Saturday from 6 'til 8pm.  It's a great night of german cuisine, door prizes and more.  The menu features schnitzel, bratwurst & sauerkraut, German potato salad and more.  Pick up tickets from any VFW Post 3001 member or buy yours at the Snake River Elks Lodge.  Tickets are $17 in advance with all proceeds going to the Auxiliary who will use those funds to help Magic Valley families in need this holiday season.
Day Welding is hosting a free rock decorating day this Saturday at the craft fair at Minico High School.  Day Welding has two tons of river rocks, painting and decorating supplies, and space and tools to decorate.  You're invited to stop by and decorate your own rock to hide - or you can leave it at the event and one of the Magic Valley rock groups will hide it for you. 
And The Hot 100 FM Halloween Bash is this Saturday at Canyon Crest.  Join us for a of dancing, door prizes, and fun!  We'll award five hundred bucks to the winner of the costume contest; runner up even scores a hundred bucks cash, dinner for two and an overnight stay at Cactus Pete's.  It's a party for 21 and up.  Advance tickets are on sale now at hot100now.com.  Get 'em in advance for ten bucks, or purchase yours at the door for fifteen.  Remember, this year the party is at CANYON CREST.  Doors at 8p, party @ 9... and I have your chance to win a pair of tickets to the party every morning this week during your prize on the 5.  We'll see you there!
MOVIES TONIGHT
MAGIC VALLEY CINEMA 13 (MAGIC VALLEY MALL):  Geostorm, Same Kind Of Different As Me, The Snowman, Only The Brave, The Foreigner, Happy Death Day, Blade Runner 2049, The Mountain Between Us, My Little Pony: The Movie, American Made, Kingsman: The Golden Circle, The Lego Ninjago Movie, It & Despicable Me 3
CENTURY STADIUM 5 (BURLEY): Only The Brave, Geostorm, My Little Pony: The Movie, Flatliners, The Mountain Between Us & Happy Death Day
MAGIC LANTERN THEATERS (KETCHUM):  Victoria & Abdul, Take Every Wave: The Life Of Laird Hamilton, Geostorm, Blade Runner 2049, Battle Of The Sexes, The Mountain Between Us & American Made  
For showtimes and advance tickets, CLICK ON THE NAME OF THE THEATER ABOVE.
CONCERTS THIS WEEK
TONIGHT, 10.26 – Mary Lambert @ The Neurolux – Boise
TONIGHT, 10.26 – Needtobreathe @ Knitting Factory - Boise
OTHER UPCOMING CONCERTS
SATURDAY 11.04 – Ani DiFranco  @ Eccles Theatre – Salt Lake
FRIDAY 11.10 – Blues Traveler @ Knitting Factory – Boise
FRIDAY 11.10 & SATURDAY 11.11 – Warrant @ Cactus Petes – Jackpot
SATURDAY 11.11 – Third Eye Blind @ Knitting Factory - Boise
TUESDAY 11.14 – Michael McDonald @ Eccles Theatre – Salt Lake
SATURDAY 11.18 – David Archuletta @ Idaho State University - Pocatello
TUESDAY 11.21 – Trans-Siberian Orchestra @ Vivint Smart Home Arena – Salt Lake
FRIDAY 11.24 – Katy Perry @ Vivint Smart Home Arena – Salt Lake
MONDAY 11.27 – Jewel @ Eccles Theatre – Salt Lake
WEDNESDAY 11.29 – Billy Joel @ Vivint Smart Home Arena – Salt Lake
FRIDAY 12.01 & SATURDAY 12.02 – Pam Tillis & Lorrie Morgan @ Cactus Petes – Jackpot
MONDAY 12.11 – Lindsey Sterling @ Idaho Civic Auditorium – Idaho Falls
MAGIC VALLEY FIVE DAY FORECAST
THURSDAY:  Sunny & 62
THURSDAY NIGHT: Clear & 35 
FRIDAY:  Sunny & 62
SATURDAY & SUNDAY:  Sunny & 67
MONDAY (10.30.17): Sunny & 59
HALLOWEEN (TUESDAY, 10.31.17): Sunny & 55
THURSDAY'S QUESTION OF THE DAY
Question of the Day: We've all been through a break-up... and more times than not, we end up clinging to a break-up song that we can listen to over and over and over again, giving us that needed moment to cry our eyes out or scream at the radio or whatever gets you through. In your opinion, what is the BEST break-up song of all time? I give Hinder's Extreme Behavior the crown. The WHOLE album. It's all one big break-up cry fest - and runs the gamut of emotions. How about you? (Broc)  JOIN THE CONVERSATION ON OUR FACEBOOK PAGE!
HOLLYWOOD
Fats Domino, the genial, good-natured symbol of the dawn of rock and roll and the voice and piano behind enduring hits like "Blueberry Hill" and "Ain't That a Shame," died Tuesday at the age of 89.  Domino was among the first acts inducted into the Rock and Roll Hall of Fame, and was reportedly only second to Presley in record sales thanks to a titanic string of 11 top 10 hits between 1955 and 1960.  Reports indicate that Domino died of natural causes.
Metallica, Dave Matthews Band and G-Eazy will headline a benefit concert supporting families impacted by the devastating October wildfires throughout Northern California. Band Together Bay Area – scheduled for Thursday, November 9th at San Francisco's AT&T Park – will assist families impacted by the fires and honor the thousands of heroic first responders.  All ticket sale funds will benefit Bay Area organization Tipping Point Community, which established an Emergency Relief Fund for low-income, vulnerable communities impacted by the wildfire crisis, including vineyard workers, immigrants, students and displaced young people.  Tickets go on sale this Friday at ticketmaster.com.
If you'll remember, some time ago I told you a story about how Eminem was suing a New Zealand Political Party for using a song that was VERY similar to his "Lose Yourself" hit as their theme song.  Well yesterday, a New Zealand judge awarded Eminem's publishing company $415,000 after ruling that that political party did in fact violate the rapper's copyright by using a song similar to his 2002 8 Mile hit  in a 2014 election advertisement. The country's High Court deemed that the track in question – tellingly titled "Eminem-esque," which the National Party purchased from a stock music library – was "sufficiently similar" to the hip-hop star's "highly original work."