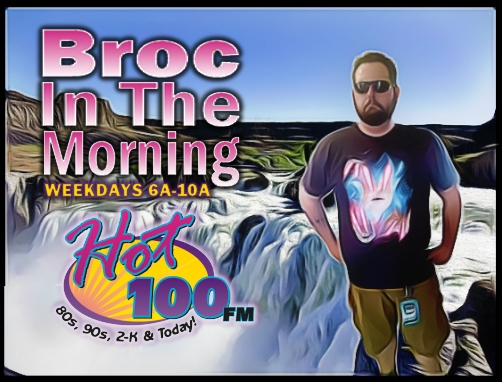 DAY PREP – 07/25/17
It's your last chance to get your kids registered for Kids Art In The Park this week as late registration continues through Friday at magicvalleyartscouncil.org.  You can also get the kids registered in person at the Twin Falls Center For The Arts, or call 734-2787.  If you didn't have a chance to get your kids signed up for the event during the initial registration period, this is your last chance!  The 26th Annual Kids Art In The Park is THIS SATURDAY and is open for kids ages 3 through 14. 
Join me tomorrow night for another Twin Falls Tonight concert, this time featuring Innocent Man.  My broadcast gets underway at 5 and the show starts at 6.  We'll be in our new temporary location in the parking lot behind Rudy's and Sav-Mor Drug on 2nd – and with all Twin Falls Tonight concerts, the show is free and open to the public, there's cold drinks and delicious food, and tons of fun for the kids, too with a bounce house and more!
Todd Eccles of Patriot Defense is hosting an enhanced concealed carry class this Saturday from 8 'til 4.  Cost is $100 per person.  This Enhanced class is an 8 hour course that involves 4 hrs of classroom lecture and discussion including a state required law portion taught by a Certified Idaho Law Enforcement Officer.  You must be 18 years of age or older to register, have a hand gun and bring 100 rounds of ammunition, safety glasses and ear protection.  For more info, call Chris at 208-591-4867 or CLICK HERE.
The Magic Valley Arts Council presents the 58th Annual Arts in the Park in Twin Falls City Park this Friday and Saturday. Festivities kick off Friday night from 5 'til 8 p.m. and continue Saturday from 10 a.m. to 6 p.m.  Friday night, enjoy wine tastingt, artists' booths, food trucks and live music by Em and the Guys.  Saturday the fun continues with the 25th Annual Kids Art in the Park at 9 a.m, and following that will be artist booths, food trucks and all-you-can-eat ice cream during the Twin Falls Rotary Club's Ice Cream Funday from 11:30 a.m. to 3 p.m.  You'll also enjoy more live music on Saturday with Peter Hansen from 11:30 a.m. to 2:30 p.m. and The Barking Owls from 3-6 p.m.  By the way, I have your chance to win tickets to the Ice Cream Funday this Wednesday, Thursday and Friday.  For more info on everything you need to know for the weekend's event, visit magicvalleyartscouncil.org.
Visit Hagerman for a special all-day Farmer's Market this Sunday from 7:30 'til 4.  "Coffee & Wheels" will kick the day off from 7:30 'til 10.  You'll have a chance to show off your vehicle while enjoying local coffee and goodies.  During Coffee & Wheels, vendors will get set up for the main event which gets underway at 10.  Lots of vendors are expected this weekend for the Christmas in July event - plus live music, lunch, kid's activities, and of course fun LOCAL shopping.  The Hagerman Farmer's Market again is this Sunday from 7:30 'til 4 at Hagerman City Park.  Get more info by CLICKING HERE.
MOVIES TONIGHT (CLICK THE NAME OF THE THEATER FOR TICKETS AND SHOWTIMES)
MAGIC VALLEY CINEMA 13 (MAGIC VALLEY MALL):  KIKI'S DELIVERY SERVICE, DUNKIRK, VALERIAN AND THE CITY OF A THOUSAND PLANETS, WAR FOR THE PLANET OF THE APES, WISH UPON, SPIDERMAN: HOMECOMING, DESPICABLE ME 3, THE BIG SICK, WONDER WOMAN  AND CARS 3. 
CENTURY STADIUM 5 (BURLEY):  DUNKIRK, VALERIAN AND THE CITY OF A THOUSAND PLANETS, DESPICABLE ME 3, SPIDERMAN: HOMECOMING AND WAR FOR THE PLANET OF THE APES.
BURLEY THEATER:  CAPTAIN UNDERPANTS (TONIGHT IS THE LAST NIGHT!)
MAGIC LANTERN THEATERS (KETCHUM):  THE BIG SICK, DUNKIRK, VALERIAN AND THE CITY OF A THOUSAND PLANETS, BABY DRIVER, WAR FOR THE PLANET OF THE APES & SPIDERMAN: HOMECOMING
MAGIC VALLEY FIVE DAY FORECAST
TUESDAY:  Partly Cloud & 89
TUESDAY NIGHT:  Partly Cloud & 64
WEDNESDAY:  Partly Cloudy & 89
THURSDAY:  Sunny & 91
FRIDAY:  Sunny & 93
SATURDAY & SUNDAY:  Sunny & highs near 100.
***HEAT WAVE NEXT WEEK, TOO, WITH HIGHS NEAR A HUNDRED MONDAY THROUGH FRIDAY – AND UPPER 90'S FOR NEXT WEEKEND.
QUESTION OF THE DAY:  You've heard of that creepy clown motel in Nevada where there are clowns in every room, littered in clown decor, and planted right next to a creepy graveyard, right?  It's been labeled the scariest hotel in America - and it's up for sale!  While it would seem like you're TRYING to get creeped out by staying at THIS hotel, EVERYBODY has a creepy hotel story - whether it be the terrifying late-night front desk attendant, awkward stains in the room, or its proximity to the "special" parts of a big city, for today's question of the day, which one and where is the creepiest or nastiest hotel you've ever stayed in?  What turned it into a nightmare? POST YOUR RESPONSE ON THE HOT100FM FACEBOOK PAGE.
HOLLYWOOD
It was announced yesterday that Justin Bieber has cancelled the remaining dates of his Purpose World Tour. There are 14 remaining concert dates, including concerts in Texas, Colorado, New Jersey and California. The "Sorry" singer also pulled the plug on shows scheduled in Japan, Singapore and the Philippines. The Grammy winner was in the home-stretch of his international tour, which was slated to end on Oct. 7 at the National Stadium in Singapore.  A rep for the tour said "Due to unforeseen circumstances, Justin Bieber will cancel the remainder of the Purpose World Tour concerts. Justin loves his fans and hates to disappoint them. He thanks his fans for the incredible experience of the Purpose World Tour over last 18 months."  The Biebs has been on the road since the tour kicked off on March 9th LAST YEAR.  It's never cool to disappoint your fans, but you have to admit that 16 solid months on the road has to be exhausting for ANYONE.
It was announced yesterday that James Bond will be back in action in 2019!  The 25th film about the legendary super-spy will hit theaters on Nov. 8, 2019. There's no word yet on whether or not Daniel Craig will be asking for his martinis shaken, not stirred. The production companies behind the film said that additional details regarding the film's distribution, including international release dates, its cast and director, will be announced at a later date. However, some insiders believe that there is a good chance Craig will return for at least one more outing as 007.
Universal Orlando has just revealed plans for the first-ever Harry Potter-themed roller coaster to arrive at Universal's Islands of Adventure in Orlando, Florida.  The all-new attraction will take guests on a journey that incorporates the characters, creatures and transportative adventures of the wildly successful book and movie series when it opens in 2019.  In its announcement, Universal positioned the ride as one of the most "highly-themed coaster experiences" they've ever created.  The new Harry Potter coaster will replace Dragon Challenge at Islands of Adventure when it closes permanently in early September.