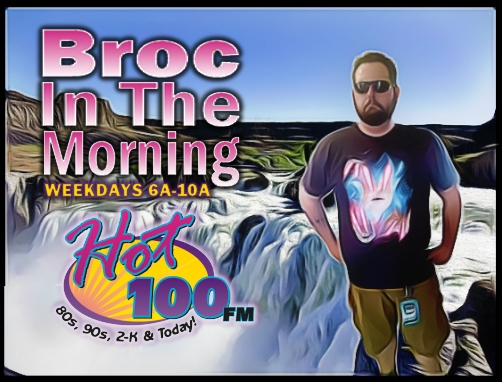 DAY PREP – 07/19/17
Kids Art In The Park late registration continues this week.  If you didn't have a chance to get your kids signed up for the event during the initial registration period, this is your last chance!  The 26th Annual Kids Art In The Park is Saturday, July 29th and is open for kids ages 3 through 14.  To get signed up, visit magicvalleyartscouncil.org or call 734-2787.
Join Hot 100 FM at Twin Falls Tonight this evening for the Kyd J Band, live in concert.  All Twin Falls Tonight concerts are free and open to the public.  This year, join us in our new temporary location in the parking lot behind Rudy's and Sav-Mor Drug on 2nd.  In addition to the live music, grab ice cold drinks and delicious food – and there's lots of fun stuff for the kids, too!  Our broadcast gets underway at 5p and the music begins at 6p TONIGHT with Twin Falls Tonight.  Get more info at www.twinfallstonight.com.
The Oakley Pioneer Days Open Rodeo is this Friday and Saturday.  2 nights full of some of the toughest cowboy competitors around Idaho and our neighboring states. The rodeo features Wild Cow Riding, Stock Saddle Bronc Riding, Bucking Bulls - plus, enjoy the dance in Oakley City Park on Friday night after the rodeo, and one of the best fireworks shows in the Magic Valley following the rodeo on Saturday night.  The rodeo kicks off at 7:30 both Friday and Saturday night.
The Cassia County Sheriff's Office will be offering a FREE Boat Idaho safe boating education class this Saturday from 9 'til 4.  This 6 hour class will cover all aspects of boating from safe operations, navigational rules, water survival, and legal requirements.  Graduates will receive a proof of completion card that is mandatory to operate a vessel on waters in Oregon, Washington and many other states.  Pre-registration is required.  Log on to cassiasheriff.com for more info.
The Hagerman Farmers Market is this Sunday from 1 'til 4 at Hagerman City Park.  This week, enjoy live music and Paul "DJZ" Karaoke!  Lunch food, produce, baked goods, handcrafts - and there are still free vendor spaces still available!  For more info, visit hagermanvalleyfoundation.org/farmers-market.
MOVIES TONIGHT
For showtimes and advance tickets, click on the name of the theater.
MAGIC VALLEY CINEMA 13 (MAGIC VALLEY MALL):  WAR FOR THE PLANET OF THE APES, WISH UPON, SPIDER-MAN: HOMECOMING, DESPICABLE ME3, THE BIG SICK, TRANSFORMERS: THE LAST NIGHT, CARS 3 & WONDER WOMAN
CENTURY STADIUM 5:  WAR FOR THE PLANET OF THE APES, SPIDERMAN: HOMECOMING, DESPICABLE ME 3, TRANSFORMERS: THE LAST KNIGHT, WONDER WOMAN
MAGIC LANTERN THEATERS:  THE BIG SICK, WAR FOR THE PLANET OF THE APES, BABY DRIVER, SPIDERMAN – HOMECOMING, THE BEGUILED, DESPICABLE ME 3
MAGIC VALLEY FIVE DAY FORECAST
TODAY:  Sunny & 96
TOMORROW:  Sunny & 93
THURSDAY:  Sunny & 91
FRIDAY:  Sunny & 92
SATURDAY:  Sunny & 94
QUESTION OF THE DAY:  Walmart is now selling a jar of pickles.  Not just any jar – they're pickles… in a JAR OF FRUIT PUNCH.  At first, you say "Ewww, gross!"  But then you're reminded of the greatness that is a McDonald's French fry dipped in a McDonald's swirl ice cream cone.  So lay it on us… your favorite bizarre food combination?  Not kidding, I've been known to treat texas toast-style croutons as the "chip" and French dressing as the "dip."  There's no shame here – 1, 2, 3 GO! ADD YOUR RESPONSE TO THE FACEBOOK PAGE!
HOLLYWOOD
Yesterday, I shared with you a story of how Steve Whitmire, the guy who's voiced Kermit The Frog for 27 years, was fired by Disney - and his side of the story was very much that he didn't want to take Kermit in the direction the STUDIO wanted to take Kermit, because he didn't feel as though it was a direction that Jim Henson would have wanted.  Now, the late Henson's son is speaking out about Whitmire's termination.  Brian Henson, the chairman of the Jim Henson Company said he didn't want to get into a war of words with Whitmire, But, after his firing became public and the actor told The Hollywood Reporter that he was replaced for reasons that include being "'disrespectful' in being outspoken on character issues," Henson granted an in-depth interview of his own in order to explain what actually happened from his perspective, even going as far to say that he should've let Whitmire go before selling the company to Disney in 2004.  He said "In hindsight, I feel pretty guilty that I burdened Disney by not having recast Kermit at that point because I knew that it was going to be a real problem... And I have always offered that if they wanted to recast Kermit, I was all for it, and I would absolutely help. I am very glad we have done this now. I think the character is better served to remove this destructive energy around it."  It was Brian Henson, along with his late mother, Jane, who picked Whitmire to take over as Kermit following his father's untimely death in 1990.  "Nobody worked harder than me on making sure Kermit survived my father's death and retained his cathartic personality and presence. So I understand the fans being concerned," Henson said. However, Henson said he had to have numerous talks with Whitmire over the years about his unprofessional conduct, which included "appalling" communications with colleagues.  So who's story do we believe?  I don't believe either of them, frankly, and believe that Disney is slowly taking over the world - end of story.
And Ann Coulter is continuing her rants and raves about how it's really hard to be rich and privileged.  The Fox & Friends host entered day four of her tantrum against Delta Air Lines yesterday, demanding to know why the "unbelievably arrogant" airline had given her extra-room seat away.  She said "It was not an elderly person, a sickly person, a very tall person.  It's been three days now, and Delta still hasn't given an explanation, much less an apology." She goes on...  "I mean, they've had four days to investigate. Why did they do this?" she later griped. "Yes, it's not the worst thing in the world, but is it that hard for Delta employees to simply be polite and simply give passengers the seat that they booked? Is that such a high hurdle?"  Look, I am a fat guy who has sat comfortably in an under-sized chair more than a few times.  I think that's the price you pay for allowing them to upcharge you for a bigger, more privileged seat.