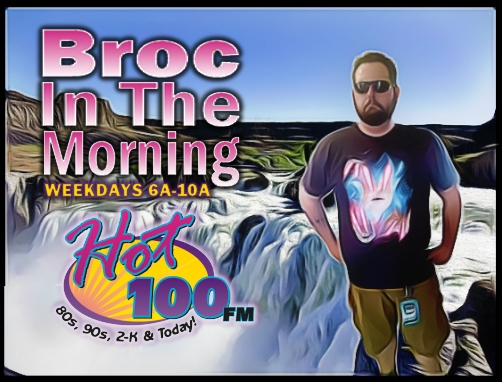 DAY PREP – 07/18/17
Kids Art In The Park late registration continues this week.  If you didn't have a chance to get your kids signed up for the event during the initial registration period, this is your last chance!  The 26th Annual Kids Art In The Park is Saturday, July 29th and is open for kids ages 3 through 14.  To get signed up, visit magicvalleyartscouncil.org or call 734-2787.
Join Hot 100 FM at Twin Falls Tonight tomorrow evening for the Kyd J Band, live in concert.  All Twin Falls Tonight concerts are free and open to the public.  This year, join us in our new temporary location in the parking lot behind Rudy's and Sav-Mor Drug on 2nd.  In addition to the live music, grab ice cold drinks and delicious food – and there's lots of fun stuff for the kids, too!  Our broadcast gets underway at 5p and the music begins at 6p TOMORROW NIGHT with Twin Falls Tonight.
The Oakley Pioneer Days Open Rodeo is this Friday and Saturday.  2 nights full of some of the toughest cowboy competitors around Idaho and our neighboring states. The rodeo features Wild Cow Riding, Stock Saddle Bronc Riding, Bucking Bulls - plus, enjoy the dance in Oakley City Park on Friday night after the rodeo, and one of the best fireworks shows in the Magic Valley following the rodeo on Saturday night.  The rodeo kicks off at 7:30 both Friday and Saturday night.
The Cassia County Sheriff's Office will be offering a FREE Boat Idaho safe boating education class this Saturday from 9 'til 4.  This 6 hour class will cover all aspects of boating from safe operations, navigational rules, water survival, and legal requirements.  Graduates will receive a proof of completion card that is mandatory to operate a vessel on waters in Oregon, Washington and many other states.  Pre-registration is required.  Log on to cassiasheriff.com for more info.
The Hagerman Farmers Market is this Sunday from 1 'til 4 at Hagerman City Park.  This week, enjoy live music and Paul "DJZ" Karoake!  Lunch food, produce, baked goods, handcrafts - and there are still free vendor spaces still available!  For more info, visit hagermanvalleyfoundation.org/farmers-market.
MOVIES TONIGHT (For tickets and showtimes, click on the name of the theater)
MAGIC VALLEY CINEMA 13 (MAGIC VALLEY MALL):  WAR FOR THE PLANET OF THE APES, WISH UPON, SPIDER-MAN: HOMECOMING, DESPICABLE ME3, THE BIG SICK, TRANSFORMERS: THE LAST NIGHT, CARS 3 & WONDER WOMAN
CENTURY STADIUM 5:  WAR FOR THE PLANET OF THE APES, SPIDERMAN: HOMECOMING, DESPICABLE ME 3, TRANSFORMERS: THE LAST KNIGHT, WONDER WOMAN
BURLEY THEATER:  DIARY OF A WIMPY KID: THE LONG HAUL
MAGIC LANTERN THEATERS:  THE BIG SICK, WAR FOR THE PLANET OF THE APES, BABY DRIVER, SPIDERMAN – HOMECOMING, THE BEGUILED, DESPICABLE ME 3
MAGIC VALLEY FIVE DAY FORECAST
TODAY:  SUN & 98
TOMORROW:  Sunny & 96
THURSDAY:  Sunny & 93
FRIDAY:  Sunny & 92
SATURDAY:  Sunny & 93
QUESTION OF THE DAY:  Last night, following a visit to my son's dentist, my wife made a bizarre request – that we venture over to the National Guard Armory on the CSI Campus so that she could search for a particular "rock" that someone had apparently decorated and hid.  After a few questions and a few more raised eye-brows, I'm coming to understand this new artsy rock treasure hunt thing goes far beyond  the attention of my wife… EVERYBODY'S doing it.  Eventually, we found the rock that she was looking for out near the Twin Falls Airport – and I have to admit, the scavenger hunt was a blast!  There's a few Facebook pages dedicated to these rock hunts, and I'll share those on my blog today… but for the question, are YOU subscribing to "Rock Hunt Madness" as I'll call it?  If so, share a picture of the coolest rock you've collected or decorated in the comments on our Facebook page (http://www.facebook.com/hot100now)
LINKS TO MAGIC VALLEY "ROCKS" PAGES:
HOLLYWOOD
Jessica Alba took to Instagram yesterday to announce that she and husband Cash Warren are expecting their third child.  "Cash Warren and I are officially going to be outnumbered  #babyonboard" she wrote.  In the accompanying video, Alba appeared to showcase her growing baby bump while paddle boarding on a recent family vacation in Hawaii. Jessica sported a fedora and sheer white maxi dress over a printed bikini while out on the open water.  Back in 2012, Jessica was the subject of pregnancy rumors, but speculation was quickly shut down by the Sin City star's rep. At the time, she addressed the possibility of welcoming more children during an interview with Access Hollywood.  She said "I'm happy with my two girls… Down the road in five or 10 years, who knows, but for right now, I'm good."  Now, exactly five years following that interview, it appears Jessica and Cash are ready to expand!
Kermit The Frog, you're FIRED!  Or at least the actor who's played Kermit for the last 27 years.  In a Monday interview with The Hollywood Reporter, Steve Whitmire explained that he was let go by Disney in October.  He says he was fired because he spoke up about changes being made to the character he felt were against what creator Jim Henson would have wanted. Disney, however, is singing a different tune.  The Muppets Studio claims it was about how Whitmire conducted himself in the workplace.  In a statement, a rep for the studio said "The role of Kermit the Frog is an iconic one that is beloved by fans and we take our responsibility to protect the integrity of that character very seriously.  We raised concerns about Steve's repeated unacceptable business conduct over a period of many years and he consistently failed to address the feedback. The decision to part ways was a difficult one which was made in consultation with the Henson family and has their full support." 
Musician Kid Rock is insisting his tweet about running for the Senate is no joke, and at least two high-profile Senators are taking him at his word.  In an e-mail to supporters, Elizabeth Warren said "I know a lot of people are thinking: this is some sort of joke, right?  Well, maybe this is all a joke — but we all thought Donald Trump was joking when he rode down the escalator at Trump Tower and announced his campaign, too," she continued.  Senate Minority Leader Chuck Schumer has also seized on the rock star's supposed campaign bid. The New York Democrat sent an email blast to supporters Thursday with the subject line "ummmm ... Kid Rock?!"  THe e-mail reads "Kid Rock -- yes, Kid Rock -- tweeted that he's running for Senate in Michigan.  He even launched a Senate website operated by a record label. So, I'll be honest, we don't know if this is real, a joke, or a bizarre publicity stunt. But I'll tell you this: I don't find it funny.  We can't afford to take this tweet as a joke... we cannot afford to think of this as a publicity stunt."