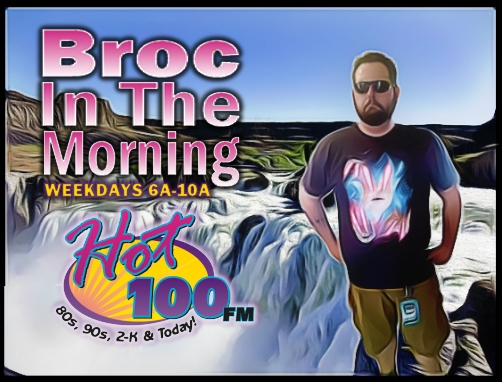 DAY PREP – 07/17/17
Kids Art In The Park late registration continues this week.  If you didn't have a chance to get your kids signed up for the event during the initial registration period, this is your last chance!  The 26th Annual Kids Art In The Park is Saturday, July 29th and is open for kids ages 3 through 14.  To get signed up, visit magicvalleyartscouncil.org or call 734-2787.
Join Hot 100 FM at Twin Falls Tonight this Wednesday for the Kyd J Band, live in concert.  All Twin Falls Tonight concerts are free and open to the public.  This year, join us in our new temporary location in the parking lot behind Rudy's and Sav-Mor Drug on 2nd.  In addition to the live music, grab ice cold drinks and delicious food – and there's lots of fun stuff for the kids, too!  Our broadcast gets underway at 5p and the music begins at 6p THIS WEDNESDAY with Twin Falls Tonight.
The Oakley Pioneer Days Open Rodeo is this Friday and Saturday.  2 nights full of some of the toughest cowboy competitors around Idaho and our neighboring states. The rodeo features Wild Cow Riding, Stock Saddle Bronc Riding, Bucking Bulls - plus, enjoy the dance in Oakley City Park on Friday night after the rodeo, and one of the best fireworks shows in the Magic Valley following the rodeo on Saturday night.  The rodeo kicks off at 7:30 both Friday and Saturday night.
The Cassia County Sheriff's Office will be offering a FREE Boat Idaho safe boating education class this Saturday from 9 'til 4.  This 6 hour class will cover all aspects of boating from safe operations, navigational rules, water survival, and legal requirements.  Graduates will receive a proof of completion card that is mandatory to operate a vessel on waters in Oregon, Washington and many other states.  Pre-registration is required.  Log on to cassiasheriff.com for more info.
The Hagerman Farmers Market is this Sunday from 1 'til 4 at Hagerman City Park.  This week, enjoy live music and Paul "DJZ" Karoake!  Lunch food, produce, baked goods, handcrafts - and there are still free vendor spaces still available!  For more info, visit hagermanvalleyfoundation.org/farmers-market.
MOVIES TONIGHT (For showtimes and tickets, click the name of the theater)
MAGIC VALLEY CINEMA 13 (MAGIC VALLEY MALL):  WAR FOR THE PLANET OF THE APES, WISH UPON, SPIDER-MAN: HOMECOMING, DESPICABLE ME3, THE BIG SICK, TRANSFORMERS: THE LAST NIGHT, CARS 3 & WONDER WOMAN
CENTURY STADIUM 5:  WAR FOR THE PLANET OF THE APES, SPIDERMAN: HOMECOMING, DESPICABLE ME 3, TRANSFORMERS: THE LAST KNIGHT, WONDER WOMAN
BURLEY THEATER:  DIARY OF A WIMPY KID: THE LONG HAUL
MAGIC LANTERN THEATERS:  THE BIG SICK, WAR FOR THE PLANET OF THE APES, BABY DRIVER, SPIDERMAN – HOMECOMING, THE BEGUILED, DESPICABLE ME 3
MAGIC VALLEY FIVE DAY FORECAST
TODAY:  PARTLY CLOUDY & 92
TOMORROW:  Sunny & 97
WEDNESDAY:  Sunny & 96
THURSDAY:  Sunny & 94
FRIDAY:  Sunny & 91
HOLLYWOOD
War For The Planet Of The Apes was the winner at the box office over the weekend, bringing in 56.5 million dollars.  Spider-man holds on strong at number 2, slipping just one spot with 45.2 million dollars.  Despicable Me 3 came in 3rd with 18.9 million.  Baby Driver lands in 4rth this weekend with 8.7 million, and rounding out the top 5 was The Big Sick – actually up three spots from eight last week to number five this week with 7.6 million.
Aaron Carter is speaking out about his DUI arrest over the weekend – lashing out at police and even his brother Nick.  The former child star and younger brother of Backstreet Boy Nick Carter was pulled over about 9 p.m. Saturday in Habersham County, Georgia, about 90 miles north of Atlanta. He was charged with driving under the influence, possession of less than once ounce of marijuana and possession of drug-related objects.  His girlfriend, Madison Parker, was in the car with him and was also arrested, police told ABC News. She was charged with possession of marijuana, obstruction of law enforcement officers and possession of drug-related objects.  Aaron is mad at his brother Nick for posting what I thought was a pretty heart-felt message on Twitter, saying "To my brother: I love u no matter what & if u feel the need to reach for help, I am here and willing to help you get better."  Aaron thinks that Nick was using his brother's misfortune as a publicity stunt to boost his own name.
Iconic actor Martin Landau has died at the age of 89.  His impressive resume includes Mission:Impossible, Tucker: The Man and his Dream and North by Northwest.  His rep says that Landau died of unexpected complications after a brief stay at Ronald Reagan UCLA Medical Center.