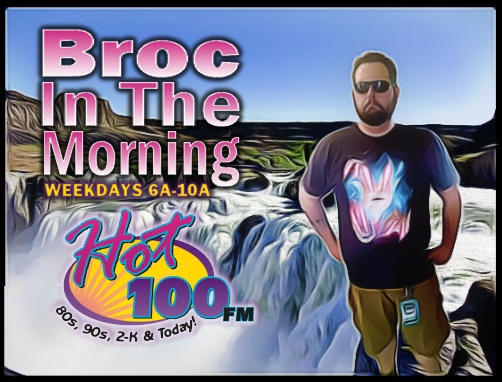 DAY PREP – 07/03/17
The Rupert 4th of July celebration continues today on the square with food vendors opening up for business at 11 this morning.  Tonight, enjoy "Sounds of Freedom", the Wild West Shootout at the Wilson Theater at 6 as well, and a performance from the Chancellors at 7:30.  The lawnmower races are today at the fairgrounds tonight as well.  Those get underway at 6 p.m.  Tomorrow, the festivities continue with the 40k Bike Race underway at 7am at East Minico.  The Rupert 4th of July parade starts at 11.  Don't miss Hot 100 FM in the parade for your chance to win a trip to Roaring Springs!  Just remember to show your Hot 100 FM pride on the route – with a Hot 100 FM t-shirt, a homemade sign, or anything else that shows us YOUR LOVE for Hot 100 FM!  Then, get a picture of yourself wearing your Hot pride and post it to the Hot 100 FM Facebook page.  We'll draw the winner Wednesday morning.  Food vendors, by the way, will open up a half hour early tomorrow morning at 10:30a so you can grab your fair food BEFORE the parade gets underway.   CLICK HERE FOR MORE RUPERT 4TH INFO.
Sage Brush days continue today in Buhl with the annual Trout Festival.  The trout dinner starts tonight at 4, and then catch live music from Copperhead tonight at 7.  The event is packed with vendors selling all sorts of goods – and remember to cool down with an ice cold beer or glass of wine in the beer and wine garden.  The festivities continue on  the 4th with the Buhl Key Club Fun Run, the Kiwana's pancake breakfast from 7 'til 10, the parade at 10:30, vendors opening up for business at 11, music from Copperhead at noon and Uppa Creek at 5 in the park, free swimming at the Buhl City Pool, a firehose competition at McClusky Park, and fireworks at dusk. CLICK HERE FOR MORE BUHL SAGE BRUSH DAYS INFO.
Twin Falls Tonight kicks off its season on Wednesday night at the new temporary location in the parking lot behind Rudy's and Sav-Mor Drug.  I'll be there broadcasting live at 5 with the concert starting at 6.  The season kicks off this year with live music from The Generator Saints – and as always, cold drinks, delicious food, and a great place to get together with friends and family.  Again, the NEW location for this year's concerts is located in the parking lot behind Rudy's and Sav-Mor Drug.
MOVIES TONIGHT (CLICK THEATER NAME FOR SHOWTIMES & TICKET SALES)
MAGIC VALLEY CINEMA 13 (MAGIC VALLEY MALL):  DESPICABLE ME 3, HE HOUSE, BABY DRIVER, TRANSFORMERS: THE LAST NIGHT, ALL EYEZ ON ME, CARS 3, ROUGH NIGHT, THE MUMMY, WONDER WOMAN, PIRATES OF THE CARRIBEAN: DEAD MEN TELL NO TALES & GUARDIANS OF THE GALAXY VOL 2
CENTURY STADIUM 5:  DESPICABLE ME 3, BABY DRIVER, CARS 3, TRANSFORMERS: THE LAST KNIGHT, WONDER WOMAN
BURLEY THEATER:  THE FATE OF THE FURIOUS
MAGIC LANTERN THEATERS:  THE BEGUILED, THE HOUSE, DESPICABLE ME 3, BABY DRIVER, WONDER WOMAN, PARIS CAN WAIT, TRANSFORMERS: THE LAST NIGHT
QUESTION OF THE DAY:  I've found that the best way to do my morning show, and to do radio in general, is to live my life out loud – so many times, I come to YOU for advice on life's challenges.  This is certainly heavier than I normally get and certainly too heavy for a Monday, but it's me doing just that – sharing my life out loud, with you.  I look at being the voice of your morning as a true friendship between you and I, thanks to the power of technology.  Tragedy struck my home over the weekend.  Our beloved feline – Emma - of almost fifteen years passed away.  I was the one who found her, and handled the situation as any Dad should – and had things free of visual torture before having to tell my wife and son that one of their best friends had just passed.  We knew she was sick – but weren't expecting her to leave us quite as early as she did.  Now, my son is five – and explaining death to a five year old is incredibly challenging, so my wife and I did the best we could.  This happened once before during his life, but he was too young to really wrap his head around the reality of just how permanent tragedies like this are.  We resorted to the story of "the rainbow bridge" – and even though he told us he didn't have any questions, you could see a hundred questions growing inside his head.  So, moms and dads, what's the one bit of advice you can give me in helping your five your old through such a tough time? (Broc)
HOLLYWOOD
No surprise here – Despicable Me 3 crushed it at the box office over the weekend, debuting in 1st place with about 75 and a half million dollars.  Baby Driver debuted in 2nd with around 21 million.  Transformers fell from the number one spot to land in 3rd this weekend with 17 million.  In 4th was Wonder Woman with 16 millilon, and rounding out the top 5 was Cars 3 with nine and a half million.  One thing that DID surprise me, though, was that The House starring Will Ferrell and Amy Pohler COMPL ETELY tanked, debuting in SIXTH with just 9 million dollars.
The dominoes have begun to fall in the court battles with organizers of the failed Fyre Festival.  One of the organizers has been arrested and charged with wire fraud.  Billy McFarland was arrested Friday in New York and accused of making "false representations to investors" in his company, Fyre Media LLC, and in a "luxury" music festival that had been set to take place in the Bahamas over two weekends in April and May.  Acting Manhattan U.S. Attorney Joon Kim said in a statement Friday that McFarland allegedly presented fake documents to induce investors to put over a million dollars into his company.  25 year old McFarland appeared Saturday before a judge and was released from jail on a $300,000 bond.  Wire fraud carries a maximum sentence of 20 years in prison.
Emmy-award winning actor James Cromwell is going to be spending a week in an Orange County Jail.  The 77-year-old actor's sentence is the result of his refusal to pay a $375 fine following his arrest during a protest in Wawayanda, New York.  Cromwell and six others were found guilty of obstructing traffic during a sit-in at the proposed future site of a natural gas-fired power plant owned by Competitive Power Ventures. The protesters say they are concerned that the CPV power plant's carbon emissions could immediately harm the local environment and will accelerate global climate change.  Cromwell was one of three protesters who refused to pay the fine. "If we don't stay together, nothing will change," Cromwell told the Times-Herald Record after refusing to pay his fine (according to Variety). "Power to the people."