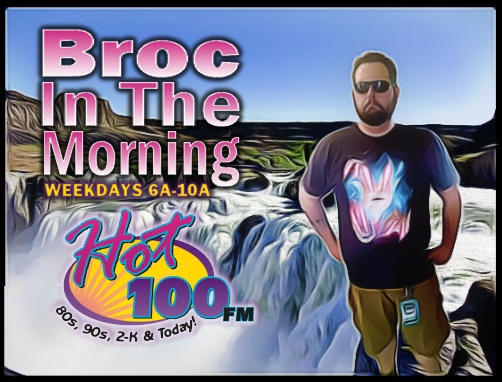 DAY PREP – 11/10/17 - Brought to you by Reclaimed & Drop It
Today, join me broadcasting live all over the Wood River Valley as I first make a visit to Valley Auto Body in Bellevue from noon 'til 1, then at High Desert Sports from 1:30 'til 2:30, and finally at Wise Guys Pizza in Hailey from 3 'til 4.  Drop by any one of my pop-up broadcasts to score free Hot 100 FM schwag!
The Wayne Nelson Cowboy Gathering will take place today, tomorrow and Sunday at the Wilson Theater in Rupert.  The gathering is a three-day event with free shows all day today and tomorrow, an all-day craft show that is free to attend, and evening shows that showcase the event's best of the best performers.  The showcases cost ten dollars per person.  Then, join in on Cowboy Church on Sunday morning at 10, which is a nondenominational and uplifting service.  The entire three-day show is appropriate for all ages and includes artists from all over the West.
The Miss Kimberly Scholarship Pageant is tonight from 7 'til 9 at the LA Thomas Building.  Each girl entered in the pageant will be performing a talent followed by the poise competition and impromptu question.  All participants will be judged on Platform, Interview Skills, Talent, and Poise.  The pageant costs $7 to attend.
The 3rd Annual Shoeboxes for Soldiers is tomorrow at United Methodist Church.  Cub Scout Pack 67 is collecting hygiene items, heat resistant candy and snacks, hand written cards & letters, and unbreakable ornaments to be sent to local soldiers serving overseas. Drop items off at the First United Methodist Church in Twin Falls tomorrow between 11 a.m. and 2 p.m. and enjoy free hot dogs for donors and raffle items from local sponsors.  Monetary donations will be used to purchase items for the soldiers. Items can also be dropped at the church anytime before November 11 as well.
St. Jerome's International Harvest Fest is tomorrow in Jerome.  The event gets underway at 6 p.m. at St. Jerome's parish hall.  Enjoy cuisine from around the world – including dishes from Africa, Germany, Italy, Mexico and Portugal.  There will be live and silent auctions and games for the whole family.  Tickets are available at the door.  This is an event for all ages.
The 'Celebration of Gratitude' Thanksgiving Musical Presentation is tomorrow at The Church of Jesus Christ of Latter-day Saints on S. Temple Drive in Twin.   Come and enjoy beautiful songs and instruments with family and friends to celebrate the upcoming Thanksgiving holiday. The public is invited to attend, and the show is open to all ages.  There's no cost to join in on the fun and light refreshments will be served.
The Viva Las Vegas Gala & Auction, sponsored by St. Nicholas Catholic School is tomorrow night at 7:00 p.m. at the Best Western Burley Inn. Join in the fun for a live & silent auction, prize drawings, casino games, and more! Bid on incredible items including KATY PERRY TICKETS, ski packages, Disney tickets, artwork and more! All ages are welcome to attend... and those in attendance can enter to win the grand prize which includes new tires, unlimited car washes, oil changes, detail service and more courtesy of Magic Valley Tire in Paul, and Mr. Gas! Tickets are $12.50 in advanced, $15.00 at the door.
The Burley High School Drama Department presents Exit The Body, a comedy showing at the Little Theater next week Wednesday, Thursday, Friday and Saturday.  Shows are at 7:30 each night, and tickets are available at the door.  Cost is five dollars for students or ten dollars for adults.
MOVIES TONIGHT
MAGIC VALLEY CINEMA 13 (MAGIC VALLEY MALL):  Daddy's Home 2, Murder On The Orient Express, Thor: Ragnarok, A Bad Mom's Christmas, Jigsaw, Let There Be Light and Only the Brave
CENTURY STADIUM 5 (BURLEY): Daddy's Home 2, Thor: Ragnarok, A Bad Mom's Christmas, Only The Brave, Geostorm
BURLEY THEATER: Nut Job 2: Nutty By Nature
MAGIC LANTERN THEATERS (KETCHUM): Murder On The Orient Express, Daddy's Home 2, Bad Mom's Christmas, Victoria & Abdul, Only The Brave & Thor: Ragnarok
For showtimes and advance tickets, CLICK ON THE NAME OF THE THEATER ABOVE.
CONCERTS THIS WEEK
TONIGHT 11.10 – Blues Traveler @ Knitting Factory – Boise
TONIGHT 11.10 & TOMORROW 11.11 – Warrant @ Cactus Petes – Jackpot
TOMORROW 11.11 – Third Eye Blind @ Knitting Factory - Boise
UPCOMING CONCERTS
TUESDAY 11.14 – Michael McDonald @ Eccles Theatre – Salt Lake
SATURDAY 11.18 – David Archuletta @ Idaho State University - Pocatello
TUESDAY 11.21 – Trans-Siberian Orchestra @ Vivint Smart Home Arena – Salt Lake
FRIDAY 11.24 – Katy Perry @ Vivint Smart Home Arena – Salt Lake
MONDAY 11.27 – Jewel @ Eccles Theatre – Salt Lake
WEDNESDAY 11.29 – Billy Joel @ Vivint Smart Home Arena – Salt Lake
FRIDAY 12.01 & SATURDAY 12.02 – Pam Tillis & Lorrie Morgan @ Cactus Petes – Jackpot
MONDAY 12.11 – Lindsey Sterling @ Idaho Civic Auditorium – Idaho Falls
MAGIC VALLEY FIVE DAY FORECAST
FRIDAY:  Showers & 56
FRIDAY NIGHT:  Partly Cloudy & 37
SATURDAY:  Partly Cloudy & 51
SUNDAY:  Sunny & 57
MONDAY:  Showers & 56
TUESDAY:  Partly Cloudy & 49
WEDNESDAY:  Partly Cloudy & 50
FRIDAY'S QUESTION OF THE DAY
Question of the Day:  Asking someone to lose weight is a delicate subject that you'll want to broach with caution. You don't want to seem insulting, and you should create a positive spin to the weight loss suggestion. This is especially true when asking a significant other - be it a boyfriend, husband,  girlfriend or wife - to lose weight.  A friend of mine is concerned that his wife is actively shortening her life by having complete disregard for her diet and spending zero time exercising.  He loves her dearly, and will love her REGARDLESS of her size, shape, or health - but wants her around so that they can spend their golden years together.  How does he approach this?  (Broc)
HOLLYWOOD
Actor Kevin Spacey is to be erased completely from a finished Hollywood film following the allegations of his predatory behaviour against co-workers and acquaintences over the last several years.  His role in All the Money in the World is to be recast and his scenes reshot. The release is expected to go ahead as planned on 22 December.  Spacey, who played late oil tycoon Jean Paul Getty in the film, will be replaced by Christopher Plummer.  All the Money in the World, directed by Ridley Scott, is about the 1973 kidnapping of Getty's teenage grandson.  Variety said that Spacey had shot about two weeks of footage and there were many scenes in the film where he was the only actor on screen.  He already appears in the film's trailer, which was released in September.  Mark Wahlberg and Michelle Williams, who also star in the film, are expected to take part in the reshooting.
The CMA Awards were held Wednesday night in TOWN.  Brad Paisley and Carrie Underwood returned as hosts for one of the year's biggest country music award shows.  The big one of the evening went to Garth Brooks.  He took home Entertainer Of The Year.  Chris Stapleton landed Male Vocalist of the year.  Miranda Lambert took home Female Vocalist Of The Year.  Jon Pardi scored New Artist Of The Year, Brothers Osborne won Vocal Duo Of The Year, and Little Big Town took home Vocal Group Of The Year.
Louis C.K. is the latest in an ever-growing list of men in the entertainment industry acting inappropriately with and around co-workers and colleagues.  This time, five women accuse Louis C.K. of unexpectedly letting the horse out of the barn in front of them.  After being contacted for an interview this week about the on-the-record accusations ofmisconduct — encounters that took place over a decade ago — Louis C.K.'s publicist, Lewis Kay, said the comedian would not respond.  In an e-mail, he said "Louis is not going to answer any questions."  For comedians, the professional environment is informal: profanity and raunch that would be far out of line in most workplaces are common... but according to his accusers, Louis C.K.'s behavior was abusive, and out of line even for a comedian.  Yesterday, the premiere of Louis C.K.'s new movie "I Love You, Daddy," was abruptly canceled, and he also canceled an appearance on "The Late Show With Stephen Colbert."