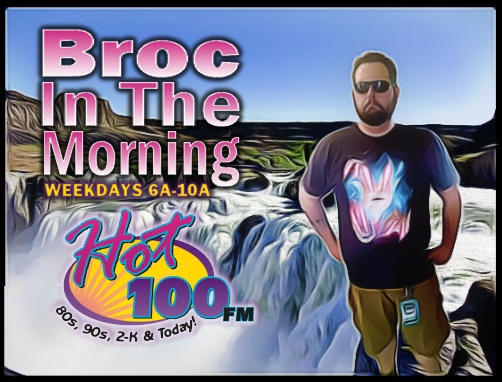 DAY PREP 06/23/17
The Jerome Public Library is holding their yard and bake sale today and tomorrow.  The sale benefits the Primary Children's Hospital and Cancer Research.  There will baked goodies and jewelry, clothes, books, and more!  That's today and tomorrow from 9 to 5.
Join bands from all across the country at Gordy's 4th Annual Highway 30 Music Fest this weekend!  The action kicks off this afternoon at 3, and goes all the way through tomorrow night with live music from Sam Riggs, Shooter Jennings, Home Free, Waymore's Outlaws, Rust On The Rails, The Midnight River Choir, The Radio Birds, The Maw Band, Spike Coggins and more!  Two day tickets are $60 at the door – or pick up a single-day pass… $45 for today, or $50 for tomorrow.  The Highway 30 Music Fest is a family-friendly all-ages event at the Twin Falls County Fairgrounds, and kids 12 and under are admitted for free with a paying adult.  Get all the details and check out the complete line-up at hwy30musicfest.com.
The American Legion Post 77 is inviting all veterans to coffee and doughnuts at no charge tomorrow morning.  Join post members from 8 to 11 a.m. at the Wilbur C. Hall American Legion Post, 132 Wayne St. in Paul.   You don't have to be a member of any post or veteran's organization to attend.
The Hazelton 4th of July celebration kicks off today with the 4th annual Southern Idaho Truck Show.  That gets underway at  10 this morning, and will be followed by a prime rib dinner tonight at 6 p.m. at Hazelton City Park. Tickets are $20 for adults and $13 for children 10 and younger.   Proceeds benefit Camp Rainbow Gold.   Then, the celebration continues tomorrow morning with a pancake breakfast from 7 to 9:30 a.m. at Silver and Gold Senior Center in Eden.  The celebration continues tomorrow afternoon with the Bob Denton Memorial Tractor Pulls at 1 p.m. at Lockwood Cellars, and a parade at 6 p.m. along Main Street.  Tomorrow night wraps up with free entertainment from Road Kill at 7 and fireworks at 10 p.m. at City Park.  The Fun Time Carnival will be there too with rides for the kids 5 to 11 tonight and 2 p.m. until fireworks begin tomorrow.  There's lots of other fun for the kids as well with games and mini-train rides -  plus food vendors for everyone to enjoy!  That's today and tomorrow in Hazelton.
MOVIES TONIGHT - CLICK THEATER FOR TICKETS & SHOWTIMES
MAGIC VALLEY CINEMA 13 (MAGIC VALLEY MALL):  TRANSFORMERS: THE LAST KNIGHT, ALL EYEZ ON ME, CARS 3, ROUGH NIGHT, THE MUMMY, CAPTAIN UNDERPANTS, WONDER WOMAN, PIRATES OF THE CARRIBEAN, GUARDIANS OF THE GALAXY VOL 2 & GUARDIANS OF THE GALAXY VOL. 2
CENTURY STADIUM 5:  TRANSFORMERS: THE LAST KNIGHT, CARS 3, THE MUMMY, WONDER WOMAN, ROUGH NIGHT
BURLEY THEATER:  BOSS BABY (Burley Theater showings are Friday through Tuesday ONLY)
MAGIC LANTERN THEATERS:  TRANSFORMERS: The Last Knight, CARS 3, WONDER WOMAN, MEAGAN LEAVEY, PARIS CAN WAIT and ROUGH NIGHT.
FORECAST
FRIDAY:  SUNNY & 83
FRIDAY NIGHT:  CLEAR & 55
SATURDAY:  SUNNY & 88
SUNDAY:  SUNNY & 93
MONDAY:  SUNNY & 100
TUESDAY:  SUNNY & 89
QUESTION OF THE DAY
Growing up, I had HORRIBLE childhood allergies.  I lived in North Dakota for the first 18 years of my life, and because I was/am allergic to mold, pollen, dust mites and silver maple trees (yup, just the silver ones apparently) and because that part of the country is wet and seems to be in a constant state of harvest, I was in turn in a constant state of CONGESTION – and what's worse is that my childhood asthma was just as bad – and whenever my allergies flared up, it triggered an asthma attack.  Needless to say, my parents eventually resorted to sending me in for allergy shots three or four times a week which was the ONLY thing that did the trick.  Then, when I moved to Idaho in 2004, my sinuses magically dried up almost overnight and now I RARELY have a problem – except for this year.  They've returned in the worst way, and most people say it's because of all the moisture we received this winter.  So, two questions this morning with it being "allergy" season and all.  First, let's try and find out who has the ODDEST allergy among the audience with part one of the question –what are you allergic to?  And part two – since there's a billion allergy medications on the market, which one works best for you?  Or have you developed your OWN "medicine" or method to kicking the stuffies? 
HOLLYWOOD
The new Transformers movie is the big release this weekend – and actually, it hit Magic Valley theaters YESTERDAY.  In Transformers: The Last Night, humans are at war with the Transformers, and Optimus Prime is gone. The key to saving the future lies buried in the secrets of the past and the hidden history of Transformers on Earth. Now, it's up to the unlikely alliance of Cade Yeager played by Mark Wahlberg, Bumblebee, an English lord played by Anthony Hopkins and an Oxford professor played by Laura Haddock to save the world.  Transformers: The Last Knight is showing at all three major theaters in Southern Idaho – at the Magic Valley Cinema 13 in Twin Falls, the Century Stadium 5 in Burley and at the Magic Lantern Cinemas in Ketchum.
Ashton Kutcher is impressed with his two-and-a-half-year-old daughter's vocabulary skills - and after reading this story, frankly so am I!  Apparently, she is already speaking THREE languages.  Again, she's TWO AND A HALF.  Kutcher, who is dad to Wyatt and six-month-old son Dimitri with his wife Mila Kunis, admits he has started to notice differences in how boys and girls develop – and he's stunned by his daughter's language skills.  He said that while she began to use simple words at four months, and can now speak three languages, his son is still making mostly baby sounds.  He told Jimmy Fallon that he just learned that girls advance faster than boys, and thinks it's a little weird.  He told Fallon that his daughter actually understands and SPEAKS all three languages, and meanwhile his six month old son is "just like a 'thuck'," whatever that means.  He said he sounds like a pterodactyl, and doesn't seem to be coming around.  Kutcher said his son has mastered "mama," but he won't say "dada".  Now come on, Ashton, he's SIX MONTHS OLD!  Besides, I watched enough Two-And-A-Half Men to know that you've barely mastered ONE language. 
Bill Cosby's representatives said yesterday that he's planning a series of town hall meetings this summer to educate people, including young athletes and married men, on how to avoid accusations of assault.  The announcement came just days after Mr. Cosby's trial on assault charges ended in a hung jury and while he is still battling several civil suits from other women who say he assaulted them too.  One of his reps in an interview with a TV station in Alabama said "This issue is bigger than Bill Cosby.  This issue can affect any young person — especially young athletes of today," he continued, "and they need to know what they are facing when they are hanging out and partying when they are doing certain things they shouldn't be doing."  The statement drew immediate criticism from organizations that speak out against the very kind of assults that Cosby was accused of committing.  Jodi Omean, a spokeswoman for the RAINN organization said "It would be more useful if Mr. Cosby would spend time talking with people about how not to commit (sexual) assault in the first place."  Boy, now that's a mic-drop moment if I ever saw one.