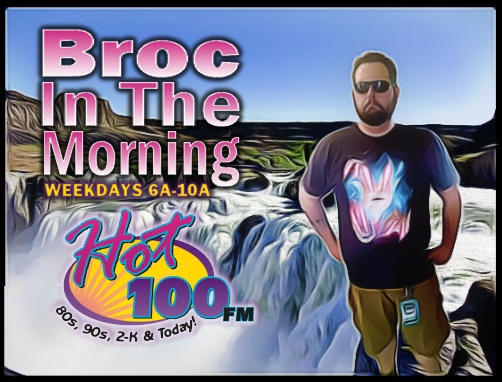 DAY PREP 06/22/17
Tomorrow, stop by the Jerome Public Library for their yard and bake sale benefiting the Primary Children's Hospital and Cancer Research.  There will baked  goodies and jewelry, clothes, books, and more!  That's this Friday and Saturday from 9 to 5.
Tomorrow and Saturday, join bands from all across the country at Gordy's 4th Annual Highway 30 Music Fest!  The action kicks off Friday afternoon at 3, and goes all the way through Saturday night with live music from Sam Riggs, Shooter Jennings, Home Free, Waymore's Outlaws, Rust On The Rails, The Midnight River Choir, The Radio Birds, The Maw Band, Spike Coggins and more!  Pick up your 2-day ticket in advance for just fifty bucks - or get it at the door for 60.  This is a family-friendly all-ages event at the Twin Falls County Fairgrounds, and kids 12 and under are admitted for free with a paying adult.  Get all the details and buy your advance tickets online at hwy30musicfest.com.
The American Legion Post 77 is inviting all veterans to coffee and doughnuts at no charge this Saturday morning.  Join post members from 8 to 11 a.m. at the Wilbur C. Hall American Legion Post, 132 Wayne St. in Paul.   You don't have to be a member of any post or veteran's organization to attend.
The Hazelton 4th of July celebration is this Friday and Saturday.  The 4th annual Southern Idaho Truck Show kicks off the festivities Friday morning at 10 with a prime rib dinner to follow at 6 p.m. at Hazelton City Park. Tickets are $20 for adults and $13 for children 10 and younger.   Proceeds benefit Camp Rainbow Gold.   Then, the celebration continues with a pancake breakfast from 7 to 9:30 a.m. at Silver and Gold Senior Center in Eden, the Bob Denton Memorial Tractor Pulls at 1 p.m. at Lockwood Cellars, and a parade at 6 p.m. along Main Street.  Saturday night wraps up with free entertainment from Road Kill at 7 and fireworks at 10 p.m. at City Park.  The Fun Time Carnival will be there too with rides for the kids 5 to 11 on Friday and 2 p.m. until fireworks begin on Saturday.  Lots of other fun for the kids as well with games, mini-train rides, and food vendors. That's this Friday and Saturday in Hazelton.
MOVIES TONIGHT
MAGIC VALLEY CINEMA 13 (MAGIC VALLEY MALL):  ALL EYEZ ON ME, CARS 3, ROUGH NIGHT, IT COMES AT NIGHT, THE MUMMY, CAPTAIN UNDERPANTS, WONDER WOMAN, PIRATES OF THE CARRIBEAN, GUARDIANS OF THE GALAXY VOL 2
CENTURY STADIUM 5:  CARS 3, THE MUMMY, WONDER WOMAN, ROUGH NIGHT, PIRATES OF THE CARIBBEAN
MAGIC LANTERN THEATERS:  ROUGH NIGHT, CARS 3, WONDER WOMAN, MEAGAN LEAVEY, PARIS CAN WAIT, and THE MUMMY
QUESTION OF THE DAY:  I was chatting with a radio friend of mine who lives in Kentucky last night, and he was getting ready to take his morning show to the "grand opening" line at Chik-Fil-A. You remember the drill when they opened here... the first hundred in line? Free food for an entire year. If I remember right, the grand opening of Twin Falls' Chik-Fil-A was during a horrible snow storm and yet campers still waited in line in their uninsulated tents for HOURS to get their hands on a delicious and FREE Chik-Fil-A Sandwich every week for the first year they were in town. It got me wondering... what restaurant or store NOT currently in the Magic Valley would YOU camp out for overnight in exchange for a year's worth of freebies? Let's say for the sake of the question if you pick a restaurant, you'll get dinner for two for free once per week for a year, and if it's a retail store, you'll get a $25 gift card to blow on whatever you want every week for a year. RESPOND TO THE QUESTION ON HOT 100 FM'S FACEBOOK PAGE!
HOLLYWOOD HEADLINES
What in the world can this guy NOT pull off successfully?  George Clooney is an award-winning actor, a new father and a world-class prankster - and now, co-founder and owner of a tequila company worth a billion dollars?  Casamigos is the tequila brand that Mr. Clooney founded with his friends Rande Gerber and Mike Meldman in 2013, and the company announced yesterday that it had sold itself to another company for roughly one BILLION dollars.  The company was to pay $700 million in cash upfront and up to $300 million more if it hits sales targets over the next decade.  Sales of tequila increased 7.4 percent last year, according to data from the research firm IWSR, outpacing virtually every other hard liquor category.  Not sure WHY it jumped so much, but I'm sure Mr. Clooney is just fine with the spike in sales.
If you're a product of the late 80's and early 90's like I am, you'll just LOVE what Netflix is about to roll out next month.  Among the titles coming to the streaming service in July are Titanic, Free Willy, The Mighty Ducks, E.T., The Land Before Time and Police Academy. There's also some new stuff hitting their archives too, like the Star Wars film Rogue One, Oscar-nominated Lion and Sundance favorites To The Bone and The Incredible Jessica James.  But, every time Netflix adds a bunch of good stuff to the lineup, they boot a whole bunch of it as well - and if you're after classics like Blazing Saddles, Batman, MacGyver Seasons 1 through 7 and Sleeping Beauty - catch 'em BEFORE July as they're all scheduled to be LEAVING the streaming service some time next month.
Prince Harry, who never passes on an opportunity to bring shame upon his family, told Newsweek yesterday that nobody in the Royal Family wants to become King or Queen.  In fact, he said the royals were doing it "for the greater good of the people."  In the interview, Prince Harry also got a little emotional when he brought up dealing with the death of his Mom, the late Princess Diana when he was just 12.  He talked about walking in the funeral procession for his, saying no child "should be asked to do that".  He praised his Mom for playing a part in showing him an ordinary life, saying people would be "amazed" at how ordinary his and Prince William's lives were.  He said "I do my own shopping. Sometimes... I worry someone will snap me with their phone. But I am determined to have a relatively normal life, and if I am lucky enough to have children, they can have one too.  Even if I was king, I would do my own shopping."